A LITTLE ABOUT ART ACCESS APP
The Problem
I am trying to solve the problem of accessibility and inclusivity of learning art history in art galleries. People with visual impairments, cognitive disabilities, or language barriers may face challenges in accessing and comprehending the art history information.
ABOUT MY PROCESS
The Goal
Create an app that allows users to have alternative forms of engagement through the app like audio descriptions and interactive displays to ensure inclusivity.
RESPONSIBILITIES
My Role
Being the lead UX designer designing an app for Art Access art history app from conception to delivery.,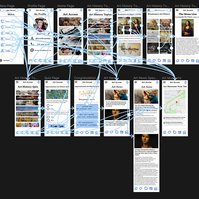 The Impact:
The app makes users feel like Art Access makes for an engaging, interactive, and fun learning experience of artworks and art history.
One quote from feedback:
"The app turns art into an unforgettable journey of discovery through technology."
What I learned:
While designing the Art Access app, I learned that accessibility and user testing is just some of the few steps in a larger project to complete a better user experience for learning art history.